Wendt Pottery Workshops

This section is about upcoming workshops offered. If you have a topic that you would like covered or a presenter you would like to see, please let me know.
Three sessions of Michael Wendt's ROD-RESTAND plate production method were sponsored by the Palouse Potters' Guild and Wendt Pottery in late October. Video shot during the workshops show the technique along with the work performed by some of the participants. The informal atmosphere along with the questions asked by the participants makes the video especially useful since they ask and have answered the same questions you are likely to want answered. Cost of the compiled raw footage DVD is $13.00 which includes shipping and  handling in the U.S., Canada or Europe. We discovered that the DVD runs in Windows Media Player so it can be viewed by anyone who has DVD capabilities on their home computer.  To obtain a copy, mail a check with your return address to:
Wendt Pottery
2729 Clearwater Ave.
Lewiston, ID 83501-3234
See a preview below:
In the early 70s, I began making dinnerware and faced a problem getting plates the same
size and thickness. This method evolved to answer that need and today has been refined
and simplified to the point where I can easily throw 20 plates per hour without rushing.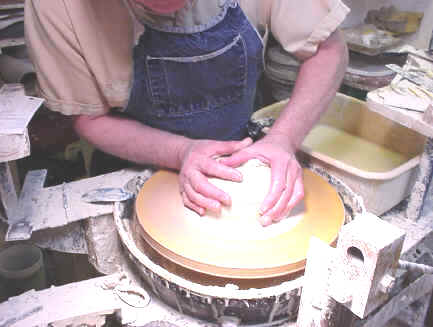 Plates begin normally by centering the mass.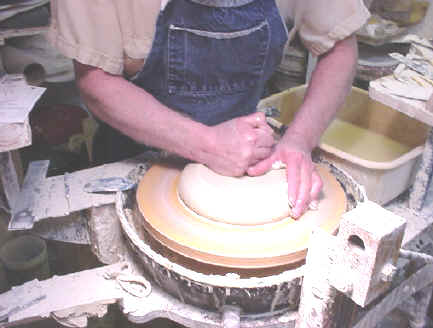 Flattening too begins in the normal fashion. I continue to flatten the disk to a uniform thickness.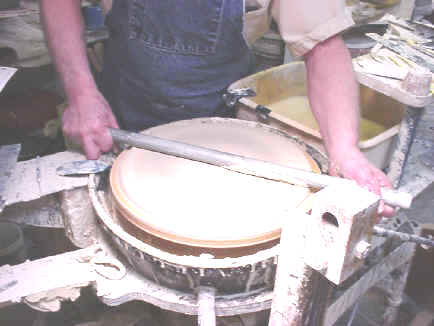 Then the even pressure on the rod assures a uniform plate thickness across the entire face.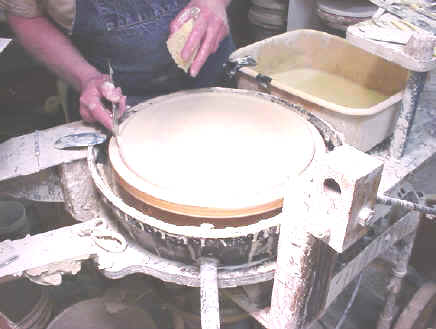 Restand begins with the restand tool.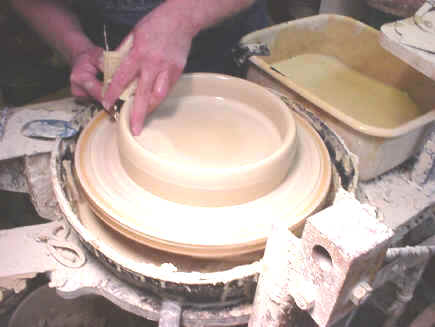 It takes only seconds from the time I start the centering until the plate
reaches this stage. From this point, throwing proceeds normally to any
shape desired. The video also includes footage of very large platters
and pasta bowls.
Other Workshops:
Additional Saturday workshops can be scheduled on the following topics: Refining and using local or native clays, tool making , equipment construction, high speed non contact measurement techniques, methods to reduce losses in production.
I also can do workshops at your location. The fee is $500.00 per day plus transportation and lodging if required.
Call for more details.