Custom Work (below are examples of past work… you tell us what you want, we'll prepare samples and a price quote whether you need 1 or 1000, we can do it) Because we can hand throw small runs economically, you can try out various ideas for designs to fit you needs at an affordable price. 
Custom coffee mugs for your coffee house, unique to you!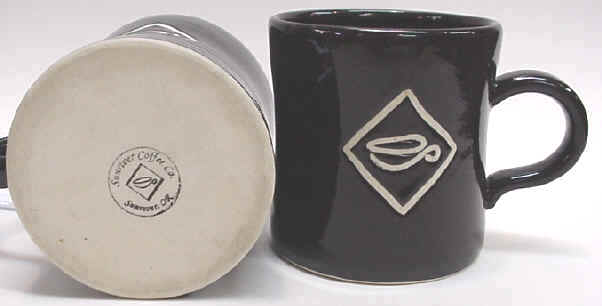 Sun River Coffee Co has their own art work and logo on their own special coffee mug. That way, orders for the item always come back to you if people want more, or point to you if you are using the item as an advertising aid, plus, these are made by hand in the USA and will say so in the included literature. This is an example of the wheel thrown mugs done a few dozen at a time. A  very practical option for the small coffee house.
Custom plates commemorate a variety of special events such as weddings, anniversaries, the birth of a baby, a promotion. Our plates have also been used as trophies for sporting events and thank you gifts to visiting dignitaries. Again, you get to choose from a variety of designs or supply one of your own.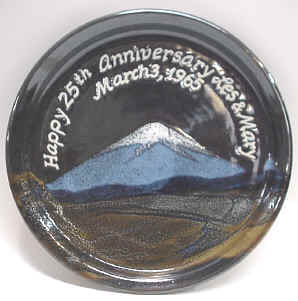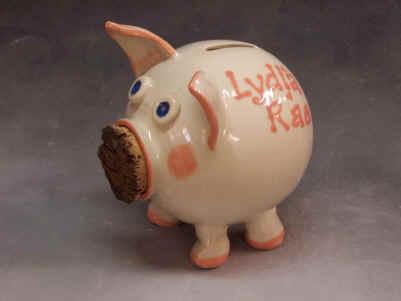 The 10.5″ anniversary plate above costs $45.00 with text.     The 8″ baby plate above costs $35.00 with text. The pig bank is $55 with name.
Cremation urns for a loved one can be done to your specifications with a loving text message, names, dates, a poem, anything you wish. You can specify size, shape, color, lid style or any other feature. Base cost for the standard urn (approximately 231 cubic inches) is $125.00. Add text for $0.25/ letter.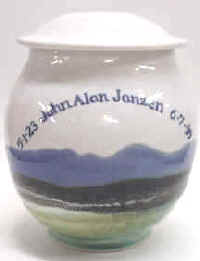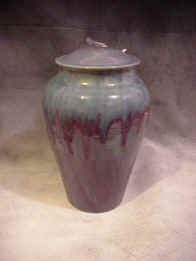 Pictured is the standard  round shape urn                Pictured above is the taller urn
7″ w X 9″ h  $265.00 wt 10 lbs                    in a slender shape 6″ w X 11″ h $265.00 wt 12 lbs
(glaze style shown is white mountain)              (Glaze style shown is plum with raku overlay)
(lettering is $0.25/letter)                                     (lettering is $0.25/letter)
Custom tile, backsplashes, sinks, plaques, any size you need can be quoted on request. Actual time needed to make the order depends upon existing order volume so please plan ahead.
Above is a three piece tile done for the front of our building. These are 6″ X 6″ and cost $15.00 per tile. Great for the front of your house or business as an alternative to standard house numbers.
Custom requests are done quickly and at no extra cost because we make it all by hand on the wheel. Below are two recent custom orders:
13.5″ diameter pasta plate     8″ diameter batter bowl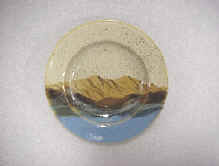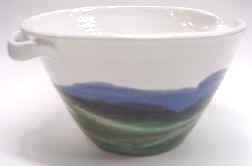 A customer could not find a pasta server to her liking in the local stores, so we made this large plate and had it ready for her in less than two weeks from start to finish, all for a cost of $45.00. Think of the possibilities, your own custom source for gifts to meet any occasion. Just ask and be sure to plan ahead!